Visit Gunston Hall
Film Screening:
Gina's Journey: The Search for William Grimes
May 15, 2019
Born in 1784 on a Prince William County plantation, William Grimes escaped slavery and then wrote about his experiences. The film "Gina's Journey" traces the efforts of Grimes' descendant Regina Mason to uncover her family history.


Postponed: Legacies of Mason
Saturday, March 30, 2019
Explore the American Evolution (1619-2019) themes of diversity, democracy, and opportunity in this multi-disciplinary set of performances. Presented in partnership with George Mason University.
This event has been postponed, and there is a change of location.  It will now be in April on George Mason University's campus.  Check back for more details. 
Wreath Making Workshop
December 12, 2018
10 a.m. and 6 p.m.



Join us at Gunston Hall for a special wreath making workshop.  We'll be making traditional boxwood wreaths from materials collected right here at Gunston Hall in our historic garden.  Let us help you get your holiday season started with this amazing opportunity to meet other history enthusiasts and take home a wreath to decorate your door.

Refreshments are included in the ticket price for each session.  In the morning, we'll have breakfast snacks and seasonal warm beverages.  At the evening session, sip on an alcoholic beverage crafted from an 18th century recipe and nibble on hors d'ouevres.

Registration Fee: $50, $40 for Friends of Gunston Hall

If you are already a Friend of Gunston Hall, and haven't received your discount code, please contact Lacey Villiva at This email address is being protected from spambots. You need JavaScript enabled to view it. .  If you are interested in learning more about becoming a Friend, please visit www.gunstonhall.org.

Register online, or call 703-550-9220.
18th-Century Game Night
Friday, February 8, 2019
6-9 p.m.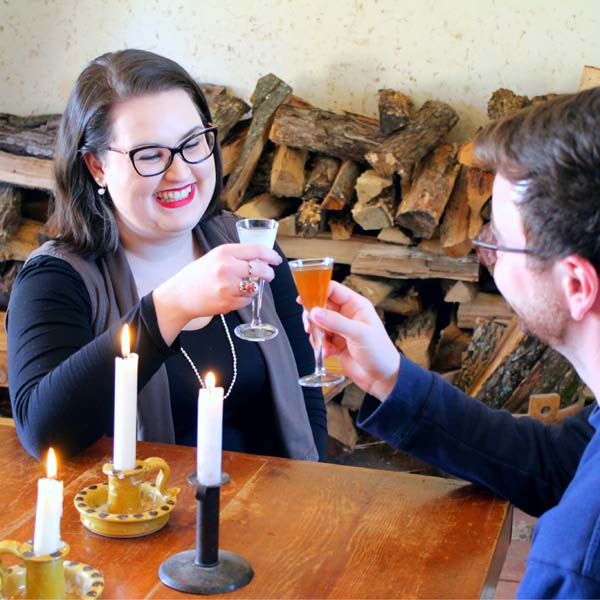 Are you ready for a night of games? Many people in the 18th century played a variety of card, dice, and board games. Letters, journals, and even existing game pieces can tell us a lot about the games they played in George Mason's lifetime. A number of them are predecessors to games we still play today.
Learn how to play games like the Game of the Goose, and Whist at Gunston Hall. Game masters will help teach you how to play the games, converse on topics Mason was thinking about, and help you have a great time.
Registration includes snacks and beverages, including seasonal alcoholic drinks from the 18th century. You must be 21 or older to consume alcohol, and IDs will be checked at the event.

$35, $25 for members of Gunston Hall
To register online, please visit our Registration Page. If you would like to register over the phone, please call 703-550-9220.
For more information, please call 703-550-9220, or email Lacey Villiva at This email address is being protected from spambots. You need JavaScript enabled to view it. .
What's Happening at Gunston Hall: Construction
Between September 2018 and February 2019, the Visitor Center at Gunston Hall will be under renovation to enhance the experience for our visitors and continue the preservation of our collections. Over the course of the project, the building will be getting new windows and doors, a new roof, and many behind-the-scenes updates. This page is up-to-date with current progress and how the renovations will affect to your visit.


---

Mansion
The heating and cooling systems in the Mansion will be replaced beginning the end of January 2019.  This will take place in the Mansion and Kitchen Yard, changing access to both of those spaces.  The Kitchen Yard will remain fully open during the work.  At some points during this work, the Mansion will be closed to visitors for portions of the day.  Please call in advance of your visit to determine if the Mansion will be open for tours.

Sections of pipe for the Mansion water systems are being replaced, and there will be digging along the driveway directly in front of the Mansion.  This may change which doors guests use to access the Mansion, but will not affect tours.
Visitor Center
From October 2018 to February 2019 the exhibit spaces in the Visitor Center will be closed for construction. The museum shop will remain open for visitors throughout the renovation.


---

Admissions
Gunston Hall is offering special "Construction" pricing for regular visitation days. Public programs and special events will retain their regular listed price.
Special Construction Pricing:
| | |
| --- | --- |
| Adults | $8 |
| Seniors | $7 |
| AAA/Retired Military | $7 |
| Groups | $7 |
| Children, 5-18 | $4 |
| Children under 5 | Complimentary |
| Friends of Gunston Hall | Complimentary |
| Grounds Pass | $5 |
If you have any questions regarding the renovations or how they will affect your visit, please call 703-550-9220 or contact This email address is being protected from spambots. You need JavaScript enabled to view it. .