Gunston Hall Library & Archives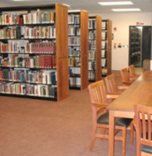 The Gunston Hall Library & Archives provides scholars, researchers and the general public with a collection of modern reference materials, rare books, and manuscripts focusing on the study of George Mason and Gunston Hall. To further enhance these resources, the collection includes a variety of research materials that emphasize the social, cultural, economic, and political history of colonial and post-revolutionary Virginia and America.
Collection On-line
The Gunston Hall Library & Archives is a member of the Founding Fathers Library Consortium. You can view and search the Gunston Hall Library collection here.
Gunston Hall Rare Book Collection
The Rare Book Collection comprises more than 1,230 titles, with strengths in law, cookery, history, gardening, literature, and architecture of the18th century. In 1992 the rare books were cataloged into OCLC, a nationwide computer database available in most libraries. Search this catalog.
Highlights include:
Collection of books listed in the estate inventory of John Mercer, George Mason's uncle
Architecture books based on library of carpenter/joiner, William Buckland
Several books inscribed by George Mason and/or his children
Manuscript and Map Collections
The Manuscript Collection consists of more than 200 linear feet of manuscripts, blueprints, and maps. Collection highlights include the documents and personal papers of George Mason and other family members, the research papers of authors who have written about George Mason, institutional records, and records of other individuals and organizations closely connected to Gunston Hall.
Finding Aids:
Thomson Francis Mason Papers
Gunston Hall School Records
Cheshire Collection
Architecture and Map Collection
Audio/Visual Collections
The Audio/Visual Collection includes photographs and slides which illustrate the heritage of Gunston Hall, its buildings, collections, and special events. Another resouce, the microfilm collection, contains primary sources including Maryland Gazette, 1727- 1837, Virginia Gazette, 1736-1780, and Alexandria Gazette, 1784-1824.
Modern Reference
The Modern Reference Collection facilitates research on George Mason and Gunston Hall, as well as the broader themes of architecture, fine and decorative arts, genealogy, cookery, gardening, U.S. Constitution and law, colonial America and Virginia history, and 18th-century social history and customs.
Research Guides:
Periodicals
The Periodicals Collection includes subscriptions to over thirty magazines, newsletters, and scholarly journals. Major holdings include The Magazine Antiques, Maryland Historical Magazine, William and Mary Quarterly, Journal of Early Southern Decorative Arts, and Virginia Magazine of History & Biography.
Research Files
The Research Files are a rich depository of material culture in the 18th-century Chesapeake region of Virginia and Maryland, including photocopies of public records such as wills, inventories, business and county records, as well as articles from 18th-century newspapers. In addition, over 300 Probate Inventories from the region have been transcribed and are available for download on our website.
Internet Resources
Architect-Designed Furniture in Eighteenth-Century Virginia: The Work of William Buckland and William Bernard Sears
by Luke Beckerdite. Originally published in American Furniture (Milwaukee, WI: Chipstone Foundation, 1994) 29-48.
Historic American Buildings Survey, Library of Congress. Includes a detailed architectural history, photographs and architectural drawings from a survey done in 1981.
"The Greatest American Who Was Never President," by John Silveira. Backwoods Home Magazine. Issue 60 (1999).
Hours
The facility is open to the public by appointment, Monday - Friday, 9:00 a.m. - 4 :00 p.m.
Please contact the library to make an appointment.
By phone: 703-550-9220 ext. 235
By email: This email address is being protected from spambots. You need JavaScript enabled to view it.