Living History Programs
Discover the 18th-Century Plantation
Gunston Hall Conversations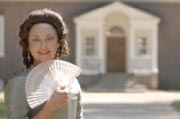 Gunston Hall Conversations is a bimonthly program which runs from April through October. Each program varies dependent on the characters present. They range from the Mason family to neighbors and visitors from father away, as well as servants and enslaved people.

The Gunston Hall Historic Interpreters Society attempts to bring the past to life. Through their portrayals during special events and tours, the GHHIS bring their in-depth understanding of the 18th century to visitors to help them understand the 18th century. The GHHIS are students of political history, military history, social history, agricultural history, foodways, language, music and dance, spinning and other domestic chores. Many of Gunston Hall's other programs are supported by living history characters, including George Mason Day, Independence Day and the Christy Hartman Myers Workshop, Plantation Christmas.

Gunston Hall Historic Foodways
The Gunston Hall Historic Foodways program welcomes the public to experience cooking demonstrations and classes over our open hearth. The program reinforces many of the public programs at Gunston Hall including Kite Day, Just for Educators, Christmastide at Gunston Hall, and school programs.

Veteran cooks trained in 18th century food preparation, preservation, serving and eating rituals of the era participate in cooking demonstrations and classes in the historic open hearth kitchen just outside the Gunston Hall mansion. Since the start of the program in 1984, the Gunston Hall Docents' Association Historic Foodways program has grown in popularity. The program keeps authentic cooking techniques, equipment and 18th century receipts (recipes) alive and available to adults as well as area school children who visit Gunston Hall throughout the year.

Each season, we offer samples of receipts from published cookbooks dating to the 18th century. Here are two from Hannah Glasse from The Art of Cookery Made Plain and Easy (1747).
Enroll in a Hearth Cooking Class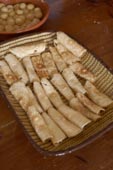 Gunston Hall's highly-regarded Historic Foodways Program offers intimate hearth cooking classes for the novice to expert. Give the gift of a cooking class for a birthday or holiday or reserve a private class for friends. For a modest fee, Gunston Hall Foodways staff will work with museums to establish or broaden a hearth cooking program.
Prepare and 18th-century dinner with Gunston Hall's veteran hearth cooks. Employ traditional cooking techniques and recipes to make period dishes.
For more information on costs and how to register, visit our Calendar of Events.



Save
Save