George Mason (V) of Lexington
April 30, 1753 - December 5, 1796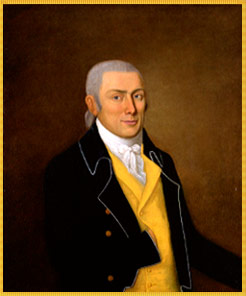 George V was educated by private tutors at Gunston Hall. The Mason children appear to have shared their schoolroom with two cousins in the late 1760s and perhaps the early 1770s. An account of 1769 indicates that Thomson Mason of Raspberry Plain (George Mason IV's brother) paid Martin Cockburn of Springfield board for his son, Stevens Thomson Mason (then 16) and Mary Mason Selden's orphaned son, Samuel Selden (then 9) while they attended school at Gunston Hall.
George Mason V was given Lexington plantation on Mason's Neck by his father in 1774. The plantation was so named in 1775 to commemorate the battle in Massachusetts. That same year George Mason V joined the Fairfax County Independent Militia and was elected Ensign. He contracted a rheumatic condition, however, which along with other complaints, plagued him for the rest of his life. In 1776 he commanded a militia company sent to Hampton to protect the coast from Gov. Dunmore's assaults, but he was forced to quit the military on account of ill health.
George Mason V went to France between 1779 and 1783, in part on business and in part to improve his health. At his father's request, George Washington wrote the young man letters of introduction to the Marquis de Lafayette and Benjamin Franklin, then in Paris. Although George traveled during his stay in France, he eventually settled in Nantes where he became involved in the tobacco trade and occasionally arranged for shipments of goods to his father in America.
The year after George Mason V returned to Virginia he married Elizabeth Mary Ann Barnes Hooe of Barnesfield, King George County, Virginia. However, we are not sure when the couple set up housekeeping in their own home as the 1785 tax records list no dwelling but six other buildings at Lexington; letters from his father suggest that two years later George and his wife were either building or remodeling the house at Lexington. It is highly probable that George Mason V continued to live at Gunston Hall with his wife at least until sometime in early 1787. A June 12, 1788 letter from his father to his brother John suggests that George V may have accompanied his father to the Ratifying Convention in Richmond.
George Mason V died only four years after his father in 1796 after suffering from chronic ill health for his entire adult life. In 1803 his widow remarried; her second husband was George Graham, Sarah Brent's nephew, who had grown up at Gunston Hall.
---
Married:

Elizabeth Mary Ann Barnes Hooe (Betsey), April 22, 1784

Children:
Elizabeth Mary Ann Barnes Hooe Mason, March 9, 1785 - March 25, 1827

George Mason VI, August 11, 1786 - August 21,1834

William Eilbeck Mason, February 3, 1788 - November 22, 1820

Ann Eilbeck Mason,(born at Gunston Hall) April 1, 1791 - November 5, 1864

Sarah Barnes Hooe Mason, May 27, 1794 - September 11, 1877

Richard Barnes Mason, January 16, 1797 - July 26, 1850